Half-open vs closed system
People who deal with moderate and heavy incontinence have a wide range of absorbent products to choose from:
Taking into consideration the construction of the products, all-in-one diapers can be divided into two systems: half-open and closed ones.
What is a difference between these systems?
Half-open system

Closed system

Half-open system means all-in-one diapers with adjustable hip bands. Elastic hip bands, which cover small surface of the body, ensure an optimal fit.

Half-open system combines what's best in anatomically shaped pads and classic all-in-one diapers.

Half-open construction can be found in Seni Optima all-in-one diapers.

Classic construction i.e. closed system is represented by Super Seni and Seni Kids all-in-one diapers with wings instead of hip bands.

Closed construction provides a perfect body fit as well as a reliable and proven protection.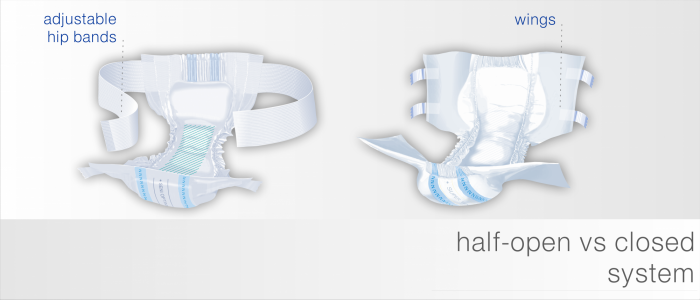 Mobile people, partially able to control passing urine will surely feel much more comfortable in all-in-one diapers with the elastic hip bands, which can be taken down and pulled up like usual underwear, and are really comfortable and easy to use. For bedridden people, or those with limited mobility, we recommend the closed system which provides optimal protection in moderate and heavy incontinence.
Diapers from each of the systems provide excellent protection in incontinence; however it is important to remember to choose the proper size and absorbency, and also to properly activate the product before using it.